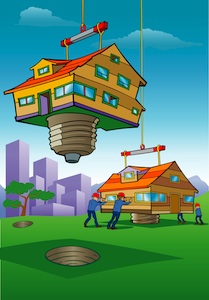 Drupal Installation Profiles give developers a way to pre-package Drupal sites for mass distribution. Installation profiles are available that let you launch a full-featured community in a matter of minutes.
One of the currently available profiles lays the foundation for an eCommerce site with a few mouse clicks; another gets you up and running with a top-of-the line news site before you can say, "stop the presses."
Installing via an Installation Profile is also a great way to see how other developers are building (and theming) complex solutions using Drupal.
A great way to learn Drupal is to install a distribution and then take a peek at the list of enabled modules and the contents of the sites/default/themes directory. It's fun to look for modules that are unfamiliar, or are being used in new or interesting ways.
---
Drupal 7

Here's a list of Drupal 7 installation profiles we found on Drupal.org (sorted by Most Installed). See also: http://drupal.org/project/distributions

Commerce Kickstart - http://drupal.org/project/commerce_kickstart
Localized Drupal Distribution - http://drupal.org/project/l10n_install
Demonstration Site Install Profile - http://drupal.org/project/demo_profile
Drupal for Churches - http://drupal.org/project/churches
Media Development Profile - http://drupal.org/project/media_dev
Display Suite profile - http://drupal.org/project/displaysuite
Feeds Test Site - http://drupal.org/project/feeds_test
Designer Starter Kit - http://drupal.org/project/dsk
Drupal with Admin Menu - http://drupal.org/project/admin_menu_profile
Omega Install Profile - http://drupal.org/project/omega_profile
GrandFoo Install Profile - http://drupal.org/project/grandfoo_profile
eRecruiter - http://drupal.org/project/recruiter
Commerce Downloads - http://drupal.org/project/commerce_downloadsins
---
Drupal 6

If you haven't made the jump to Drupal 7 yet, there are some very cool distributions available for D6 also. As of this writing, there were 53 installation profiles for D6 at http://drupal.org/project/installation%2Bprofiles
---
Here are a few more profiles that aren't listed on Drupal.org:

Acquia Commons - http://network.acquia.com/downloads/drupal-commons
Conference Organizating Distribution (COD) http://usecod.com/
Open Atrium - http://openatrium.com/
OpenPublish - http://openpublishapp.com/