Blog
Drupal Watchdog Joins the Linux New Media Family
May 4, 2016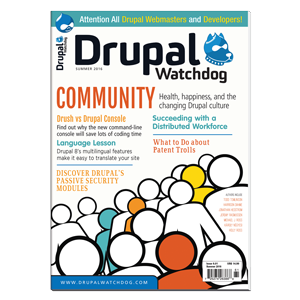 Drupal Watchdog 6.01 is the first issue published by Linux New Media. Come see the Drupal Watchdog team at DrupalCon 2016!
Drupal Watchdog was founded in 2011 by Tag1 Consulting as a resource for the Drupal community to share news and information. Now in its sixth year, Drupal Watchdog is ready to expand to meet the needs of this growing community.
Drupal Watchdog will now be published by Linux New Media, aptly described as the Pulse of Open Source.
"It's very clear that the folks at Linux New Media know what they're doing, and that they truly value the open source culture," said Jeremy Andrews, CEO/Founding Partner, Tag1 Consulting. "I'm ecstatic that the magazine will not just live on, but it will thrive as a quarterly publication … this is a wonderful step forward that benefits everyone who reads and contributes to Drupal Watchdog."
The magazine will continue to be offered in print and digital formats, and Linux New Media's international structure provides better service to subscribers worldwide, with local offices in North America and Europe and ordering options in various local currencies.
"We don't want to change what has brought Drupal Watchdog this far, but we do want to see it grow and expand to the next level, which mainly means – extending the reach of the magazine," said Brian Osborn, CEO and Publisher, Linux New Media. "As our first step, Drupal Watchdog will now be published quarterly, helping us stay even more current in our coverage and in more frequent contact with our readership."
Drupal Watchdog is written for the Drupal community and will only thrive through community participation.
Here is what you can do to help:
The first issue of Drupal Watchdog published by Linux New Media will be available May 9th! All DrupalCon attendees will receive a copy at the event. Come meet the new team, and learn more about the future of Drupal Watchdog!