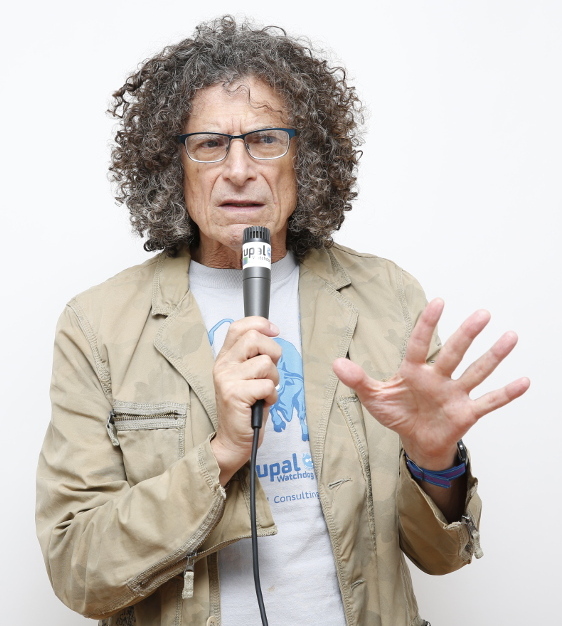 FADE IN:
INTERIOR. RONNIE'S APARTMENT – EVENING
(RONNIE paces, on the phone.)
RONNIE: Jeremy, I have a bit of a problem. My Drupal guru-guy got two million dollars seed capital for his start-up and moved to Palo Alto. But I was thinking, maybe you should send me to DrupalCon Austin... Why? So I can experience the whole Drupal community-thing first-hand... Really?... Awesome!
DISSOLVE TO:
EXTERIOR. CONVENTION CENTER – ESTABLISHING SHOT – MORNING
(RONNIE enters the massive Neal Kocurek Memorial Austin Convention Center, along with hundreds of enthusiastic Drupalists.)
[TITLE: DRUPALCON. DAY ONE]
INT. CONVENTION CENTER, REGISTRATION AREA
(Ronnie approaches a heavily costumed gentleman and explains that he is interviewing attendees for an article in Drupal Watchdog. HILMAR HALLBJÖRNSSON, a Drupal developer from Iceland, readily agrees to be questioned. Ronnie sets his cellphone to Record.)
RONNIE: Hilmar, why the helmet and horns?
HILMAR: Three days before I came here, I saw Morten DK announcing a big Vikings party and claiming that Vikings came from Denmark.
RONNIE: Uh-huh.
HILMAR: Well, everyone with a little knowledge of Vikings knows there are as many genuine Vikings in Denmark as there are high mountains. Which is: none.
RONNIE: So...?
HILMAR: So I decided to show him who was the boss.
RONNIE: And you showed him?
HILMAR: He was defeated and knelt before me.
INT. CONVENTION CENTER – LATER
(Exiting Exhibit Hall, Ronnie keeps up with a scurrying man-on-a-mission: JASON MOSS, an applications developer for the University of North Carolina in Chapel Hill.)
JASON: This is my fourth DrupalCon and what makes it most favorable over the last three is that it's in a warm place.
RONNIE: Uh-huh. But aside from the weather –
JASON: – I always get a lot of little tidbits and useful tips at Drupalcon. It's what keeps me coming.
RONNIE: Did you hear Dries's keynote speech?
JASON: Sure, and frankly I was hoping Drupal 8 was a little closer than it actually is, but I'm still anticipating it, waiting with bated breath.
RONNIE: One last question –
JASON: – Sorry, gotta run.
(Ronnie introduces himself to BASTIAN WIDMER, waiting on a line for a Drupal Watchdog T-shirt.)
BASTIAN: I am a development and operations engineer with Amazee Labs. We're sponsoring here and I'm also going to some sprints.
RONNIE: Where are you from?
BASTIAN: Zurich, Switzerland. This is my first DrupalCon in the U.S., so it's quite a different thing from the DrupalCons in Europe, but I really really like it.
RONNIE: And Austin?
BASTIAN: Austin is nice, very friendly, lots of live music, really nice city.
RONNIE: Would you like a free t-shirt?
BASTIAN: Yes!
(Ronnie turns and finds BRONIUS MOTEKAITIS, in conversation with a swag-laden YOUNG MAN, who promptly exits.)
RONNIE: Can you spell your name, please?
BRONIUS: (Laughing) I have a hard time spelling it myself.
RONNIE: What brings you to DrupalCon?
BRONIUS: (Aside, conspiratorial) Is this live?
RONNIE: No, I'm recording it and I'll transcribe it later.
BRONIUS: Good. Then I feel far less... intimidated.
(Ronnie and Bronius are distracted by TWO YOUNG WOMEN passing nearby, one with a boa constrictor tattoo down her arm, the other with brick-red hair.)
RONNIE: Uh...
BRONIUS: Yes?
RONNIE: So – what brings you to Austin?
BRONIUS: I wanted to spread the Drupal love.
RONNIE: And are you succeeding?
BRONIUS: I'm thoroughly enjoying myself. I arrived in a kind of slump. I didn't feel prepared for DrupalCon. But now I feel refreshed, renewed – I feel energized again.
(A YOUNG WOMAN passes on her way into the Exhibit Hall.)
BRONIUS: (Calling to her.) Good morning, Emma!
EMMA: Good morning, Bronius.
BRONIUS: (To Emma) I'll join you for lunch!
RONNIE: Bronius, besides spreading the Drupal love...
BRONIUS: (Quickly, starting to move off.) I have some design ideas – t-shirts, home builder projects – listen, nice talking with you, I hope you use something I said, there's nothing I enjoy more than limelight.
[DRUPALCON. DAY TWO]
INT. EXHIBIT HALL – NOON
(Waiting on line for the free, Axelerant-sponsored lunch, Ronnie interviews CAROLINE DOUGHERTY, a front-end developer for the National Environmental Modeling and Analysis Center.)
CAROLINE: I'm looking to make some connections with the Drupal community, learn more about the upgrades in Drupal 8, and, you know, trying to see what's coming down the pike.
RONNIE: Which pike?
CAROLINE: Well, for example, I've learned more about Sass, which I just started doing.
(She snags two paper plates.)
CAROLINE: Salad?
RONNIE: Thanks.
CAROLINE: (Adding salad to both plates.) I wish there was more about design. There seems to be more of a concentration on backend development
and beginning site building. But I'd like to see more advanced front end and integration with Sass and dynamic CSS. Here, help yourself.
(She hands Ronnie a salad-heaped plate; he adds fish and veggies. He then finds a table where DAN O'MANNION and DAWN DAVIS partake of the tasty repast.)
DAN: I'm a front-end developer.
DAWN: I'm QA.
DAN: We both work for Examiner, we both use Drupal – love Drupal – and we're getting a great feel for the community.
DAWN: Last year, there wasn't much going on for me to do. This year, it seems the QA community has really grown.
(DEBBY FRENCH, food-plate in hand, joins them at the table.)
DEBBY: I just started to learn how to use Drupal, so this DrupalCon has been a great experience!
RONNIE: How so?
DEBBY: It's given me a lot to think about, more directions to go, how to set up your sites, and how to change your thinking process from how you used to do it. By the way, I'm web master at the Health and Human Services Commission, here in Austin.
RONNIE: You live in Austin?
DEBBY: Since '79. I've seen a lot of growth. A lot of people are moving here, there's a lot of construction. We miss the trees! But apparently we need more hotels.
INT. CONVENTION HALL, FOURTH FLOOR – LATER
(Still searching for answers, Ronnie encounters SARA MONK, who builds websites at Oregon State University.)
RONNIE: What brings you to DrupalCon, Sara?
SARA: Well, this is my second one, and I'm here to learn more about Drupal as a whole, because I do the content side, and there's always tricks and tips that I don't know.
RONNIE: And you learned more about the back side?
SARA: The back end, yes. I mean, there were some sessions I went to that weren't all that I expected but I'd say almost all of them were awesome.
RONNIE: Any quibbles?
SARA: I would say, for me, personally, I wish there were more hands-on tutorial-type sessions for the content builder side.
(CHRIS CALDWELL waits outside a session-room. Ronnie seizes the opportunity.)
CHRIS: I work for New Media Denver. My first DrupalCon was in San Francisco and I've been to every one since then. I get a lot of training out of it, a feel for what's happening, where the space is going, and what the new technologies are that are powering the web. You come here, you get the answers.
RONNIE: Exactly! That's why I'm here, Chris, to get the answers.
CHRIS: Yeah! These presentations have been top-notch. Good presenters, interesting topics. For me, the question is, how can we all collaborate and integrate with other people who are doing similar tasks?
RONNIE: Good question. And the answer is...
CHRIS: Well, it's not just about how do we prepare ourselves for Drupal 8, it's a bigger picture at this conference. And props to Craft Pride!
(Chris enters the session room.)
(Ronnie introduces himself to SERENA WHITE, sitting on the floor working on her iPad.)
SERENA: I'm from San Francisco, and I'm website manager for Storage Networking Industry Association, a non-for-profit. I came here for the front-end tracks, to get more knowledge, interact with the folks, figure out what's coming up in Drupal 8... This is only my second Con – but it's much more than I expected.
RONNIE: How so?
SERENA: The community. It's absolutely amazing. I've never met so many people who would make themselves available for questions.
RONNIE: Totally. And Austin?
SERENA: Last night, I went to a Cuban restaurant downtown. The food was incredible!
EXT. CONVENTION HALL – LATER
(At day's end, as masses of conventioneers exit the hall, Ronnie introduces himself to HOWARD DRAPER and CHRISTINA DULUDE.)
HOWARD: I'm client adviser at Acquia. Back in San Francisco, I worked in higher ed, so when Christina gave her talk –
RONNIE: – Wait a second. (To Christina) You gave a talk?
CHRISTINA: I gave a panel presentation on scaling Drupal for higher education, with folks from Harvard, Stanford, and Yale. I'm a web architect at Dartmouth, and our panel kind of compared and contrasted how we use Drupal at our institutions.
HOWARD: And there was barely standing room!
CHRISTINA: I am certainly biased but I wish there were more higher ed talks. Other than that, I think everything's been great. I love Austin.
HOWARD: I eat breakfast tacos three meals a day. I'm from Texas, and it's great to see all the weirdoes I used to know.
[DRUPALCON. DAY THREE]
EXT. CONVENTION CENTER – MORNING
(On their way inside, Ronnie chats with CHRISTOPHER STEVENS.)
CHRISTOPHER: I'm with the Space Foundation, in Colorado Springs.
RONNIE: The Space Foundation. You do...?
CHRISTOPHER: Space-related endeavors.
RONNIE: Ah.
CHRISTOPHER: I came here hoping to round off the edges on several little questions I had unanswered.
RONNIE: And?
CHRISTOPHER: And I had them all answered.
RONNIE: How do you get all your questions answered?
CHRISTOPHER: You go out and have a beer with other developers.
RONNIE: That's it? Beer?
CHRISTOPHER: There's a lot of inspiration there, because what do you do, you talk about your passion.
RONNIE: Beer.
CHRISTOPHER: Space.
INT. EXHIBIT HALL – AFTERNOON
(As delegates arrive for HOLLY ROSS'S Closing Session, Ronnie spots BRIAN SMITH, tattooed, with wheelie and backpack.)
BRIAN: I'm a front-end developer for Forum One and this was my third DrupalCon. It didn't seem to have a theme, but now that I've been here it feels like it was
all about automation: automated testing, automated content; in every realm, it was all about automation.
RONNIE: Disappointed?
BRIAN: Not at all! Look – (showing off a gleaming red tattoo) – it's the Forum One logo. I just got it this week. Our CEO dared me and I said, "Will you pay for it?" and he said, "Sure, we'll expense it." He didn't think I'd actually go through with it.
RONNIE: So now all your co-workers have to get one?
BRIAN: Ha-ha-ha. No. But it wouldn't surprise me. It's a great company to work for.
RONNIE: Happy to be going home?
BRIAN: No, man, I like Austin! I wish I didn't have to leave today, I wanna go to Gus's and have some fried chicken.
EXT. CONVENTION CENTER – AFTERNOON
(Hordes of Drupalists are exiting, heading home. Ronnie checks his cellphone; almost out of juice, only time for one more. Ah, NATALIA GAVIELEVA.)
NATALIA: (with a slight Russian accent) This is my third DrupalCon. I work at Bentley University, near Boston. We're a small team, so we do back end and front end, everything that comes our way. On Monday, I went to a higher ed summit at University of Texas and there were more than a hundred of us. I came here to get more Drupal Training, to find out more about Drupal 8 – and I did – and to meet more people in the higher ed community – and I did. And to totally have fun in Austin.
RONNIE: And you did?
NATALIA: My expectations were exceeded. I loved it! I would love to come back to Austin! And I would love to go to the next DrupalCon!
RONNIE: Me too, Natalia, me too.
(As Natalia wends her way away, Ronnie shuts his cellphone. He seems less bewildered than three days ago, more determined – as he gazes off into the distance.)
RONNIE: Yeah... DrupalCon Amsterdam...
Image: ©MATT GUNTHER