Blog
In U.S. Bookstores
June 16, 2014

Now in its fourth year of publication, Drupal Watchdog has found its way into your local bookstore! But this is only the beginning. We need your help to ensure your favorite Drupal magazine stays in bookstores, and finds its way onto even more bookshelves.
Help Drupal Watchdog Succeed
Bookstores will only carry magazines that sell. If you're already an avid Drupal Watchdog reader, please tell all your friends about how great it is and encourage them to go pick up a copy! If you've only read our articles online, take a trip to your local bookstore and be amazed to hold the magazine in your hands.
Where To Find It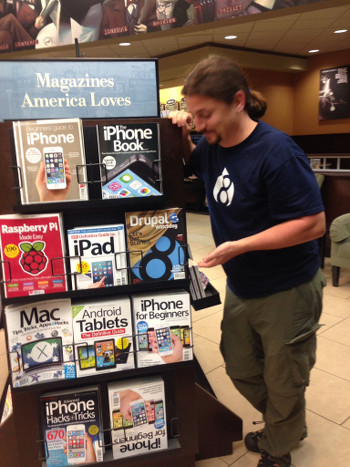 Our special double-size Drupal 8 issue is the first to find its way into so many bookstores. You can search for your state below, to see if the magazine is available near you.
Barnes & Noble (in over 30 U.S. states, including Arkansas, Arizona, California, Colorado, Connecticut, Florida, Georgia, Indiana, Illinois, Kansas, Louisiana, Massachusetts, Maryland, Michigan, Maine, Montana, North Carolina, Nebraska, New Jersey, New Mexico, Nevada, New York, Oklahoma, Oregon, Pennsylvania, Rhode Island, South Carolina, Texas, Vermont, Washington and Wisconsin)
University City News (San Diego, California)
Hillcrest News (San Diego, California)
Paras News (San Diego, California)
Bob's Books & News (Fort Lauderdale, Florida)
Riverlights Bookstore (Dubuque, Indiana)
Newsbreak (Swansea & New Bedford, Massachusetts)
Greenfield News (Greenfield, Wisconsin)
Wait, My Bookstore Doesn't Have It!
Be sure to go to the information counter and ask for it! There are a huge number of magazines on the shelves, and ours is a new arrival so it may get buried behind others. Ask for it by title, Drupal Watchdog, or by ISSN, "2372-241X". If they really don't have it and don't have a way to order this issue, ask if they can request the next one from their supplier!
You're also welcome to subscribe, or order a single issue online.
I'm Not In The U.S.
While it's absolutely possible to subscribe to Drupal Watchdog or order a single issue in most countries in the world, shipping costs are far more expensive than within the United States.
As an alternative, we're working to provide ePub and MOBI formatted electronic versions of the magazine, every bit as beautiful as the print editions. We'll write all about it here in our blog as soon as they're available.
But I Already Subscribe!
Thank you! Sincerely! We greatly appreciate everyone that's subscribed, and all you're doing to help Drupal Watchdog succeed! If you want to help even more, email us and tell us how we're doing. What would you like to see improved?